Trusting God for My Salvation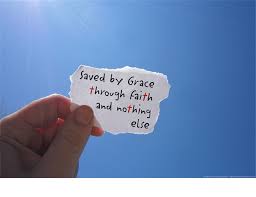 Titus 3:5 "Not by works of righteousness which we have done, but according to his mercy he saved us, by the washing of regeneration, and renewing of the Holy Ghost;"
A lot of people get derailed and off track and they start trying to work for the Lord Jesus Christ, not only to obtain their salvation, but then to keep their salvation. Regarding salvation, the Bible says it is "not by works of righteousness which WE have done." There's nothing we can do to earn salvation, and there's nothing we can do to keep salvation.
When Jehovah's Witnesses come up to your door and do their "work of righteousness", they're trying to work their way into heaven. It is easy to feel sorry for those folks. If you have ever tried talking with them, you quickly realize there is no changing their mind regarding working for salvation; they're unfixable. There's always a rookie with the veteran, and you end up disputing Bible doctrine with the veteran and wasting a bunch of time. After awhile you learn it is better to just leave them alone. No matter what, they are trying to do their "work of righteousness". At times you may see them standing on the streets with their Watchtower magazines. Even though everybody just keeps walking past them, they just stand there holding their magazines. Is that all you have to do to get saved? If that was the case, then all a person would have to do is just stand there and hold the magazines. It's a work of righteousness.
Works of righteousness go from standing around holding magazines to keeping the golden rule, to going to church and getting baptized for salvation. If you could do those things to get saved, then you could end up losing your salvation. The Bible says salvation is not by works of righteousness which WE HAVE DONE. Yes! salvation is by a work of righteousness, but it is a work of righteousness which HE (JESUS) has done. We are going to explore this a little bit.
An Irishman was being teased about his continual preaching on the doctrine of eternal security by one who said, "What if, after all your preaching of this doctrine, you would actually lose your salvation?" The answer immediately came, "God would lose much more than I would. I would lose only my salvation, but God would lose his reputation."
God's very serious about His reputation. God does not have a reputation for losing things. God has a reputation for finding things. We have a reputation for getting lost. We want to serve self, but God doesn't have that kind of reputation and He cares alot about His reputation.
The Bible's Promise
I know I cannot lose my salvation because the bible tells me so. A lot of people are messed up about this and think they can lose their salvation and they end up in a kind of bondage; doing spiritual works for the rest of their life. Doing good things for the Lord Jesus Christ is not a bad deal. Helping our neighbors is not a bad thing. But doing good things is not a requirement to stay saved and keep a good relationship with the lord Jesus Christ. It's not a requirement to get saved. What is required is to accept the work that the Lord Jesus did on the cross at Calvary for you.
"Christ died for sinners," Paul said, "of whom I am chief." All you have to do is admit that you are a sinner and accept that Jesus did everything else. You have to believe that Jesus did what was necessary to pay for your sins. God had to make salvation so easy that there is no way we could mess it up. He didn't make it difficult. It's not a rubiks cube to figure out. If it was, we'd be in big trouble. But, God made it easy. All we have to do is accept that He paid our price for us. That's it! That's all we have to do!
The world takes something that is so easy, (so easy that a little child could understand it), and denies it. This is confusing because the world is always on the lookout for something free. When the world sees the word: "free", it gets their attention. But the world won't take Jesus Christ's free payment for their sins which would determine their eternal future. Somehow, they just can't believe it's free. When God makes it so easy that you'd have to be really dumb to deny taking it, there has to be something wrong in your head. You don't have to buy one and get one free. All you have to do is take it and see what happens. But, people don't want that.
God is a powerful God. I didn't deserve salvation in the first place. I was a terrible person. Before I got saved, I had long hair, big beard. I was dealing drugs and riding motorcycles. Not deserving to get saved. I wasn't even looking to get saved. Somebody came up to me and said, "Do you know about Jesus Christ?" I said, "Yeah, I know all about Jesus Christ."
"Do you know about the Bible?"
"Yeah, I know about the Bible!"
"Have you ever read the Bible?"
"Yeah, I've read the Bible!"
"Have you ever heard of Noah?"
"Yeah! That guy that led those people out of Egypt!"
"What about Moses?"
"Yeah! He built that big boat for all of the animals!"
Then this man opened up the Bible and said, "Do you see this right here?" He showed I was all mixed up. Noah didn't lead the children of Israel out of Egypt. Moses did that. Noah built the ark. I had been basing my opinion on the opinions of other people. I lied when I said I had read the bible. When seeing the truth, I realized I was not intelligent about the Bible. I wanted to get away from him; back to comfort land, but I had to work with this guy in a 10′ by 10′ room all day long. All he talked about was Jesus Christ.
He kept encouraging me to look in the Bible. One day he asked me what I believed exactly. I told him I was an agnostic. He showed me in the dictionary that the word "agnostic" meant "ignoramus." He showed me that I did not know what I was talking about. I was truly ignorant. Basing my opinions on the opinions of others. I was not looking to get saved, but God was looking for me. God is a finder! He's not a loser! And He found me one day in that little room, and He saved my soul by telling me to open that book and really read it and accept it.
I took the book home to read it. I got down on my knees and said, "God, this is your big chance to get me. I'm going to read this book and if its not real, then no Bible thumper will ever be able to tell me that I hadn't read it!" I started reading in the Book of John. When I got to John 3:16, I said to myself, "There it is." I was so excited that I continued reading, I read almost the entire new testament that night. When I went to work the next morning, I told my workmate, "I got saved."
"Praise the Lord! Hallelujah! You're my brother now."
"God saved me and He loves me!"
"What about your sin?"
"Huh? My sin? What about my sin?"
"Did you get it under the blood? Did God forgive you for your sin?"
I said, "I don't know…"
"Well, why don't you pray and ask Him to?" I thought that was a good idea. I got down on the floor and prayed, "God, will you please forgive me of my sin?"
That was the day that my sin got put under the blood. I accepted His payment for my sin. He found me. I wasn't really looking for Him. But, I knew when He found me that I needed Him.
Grace and Faith
I didn't deserve to get saved in the first place. And since I didn't deserve it in the first place, why then would God take it away from me later, deeming that, "You didn't deserve this." If I didn't deserve it, and I wasn't going to deserve it in the future, why would He ever give it to me in the first place. Ephesians 2:8 says "For by grace are ye saved through faith; and that not of yourselves: it is the gift of God:"
By grace I'm saved through faith. Not my faith! I'm saved by the faith of the Lord Jesus Christ, who went and did the thing that He really didn't want to do, but did it anyway so He could save degenerate man. Not my faith! Jesus' faith! I just accepted what He did for me.
Grace saved me and grace keeps me. In 2 Corinthians 12:9 Jesus says, "…My grace is sufficient for thee: for my strength is made perfect in weakness." Grace means that you got forgiven, when you didn't deserve to get forgiven. Mercy means that you have a big problem, and you're going to suffer some consequences, but you don't receive those consequences, even though you deserve them.
If you do something wrong and deserve a spanking, but daddy decides to not give you that paddling–THATS MERCY. Grace is when you deserve a spanking, but daddy doesn't give you that spanking (mercy), instead, daddy gives you a reward–THATS GRACE! That's how wonderful grace is.
Why would God say, "You don't deserve to be saved, but I'm going to save you, and not only that, I'm going to do a lot of good things for you too?" And then suddenly say, "Uh, I changed my mind. Pay me back!" God doesn't do that.
Gift vs. Reward
I know I can't lose my salvation because I didn't deserve it in the first place. Salvation is a gift. There is a big difference between a GIFT and a REWARD. Rewards are something you earn for your work. Gifts are something given to you because of the heart of the giver. Rewards can be taken away because they depend on the recipient's action or status with/to the rewarded. Gifts may not be taken away because after they are given, the action of giving has been fulfilled.
Salvation is not something we earn. It is a gift given to us out of the heart of God (Eph. 2:8-9). We know that because the Bible says it in Romans 6:23 "For the wages of sin is death; but the gift of God is eternal life through Jesus Christ our Lord." On the other hand, the reward that everybody on this earth has earned because they are a sinner (in God's opinion) is death. God feels that we all deserve death. But the gift of God is eternal life. Even though we deserve death, God still has a gift for us. We can have it if we will receive it. And if we do, it is a blessing to God because the giving of a gift always is more of a blessing to the giver than it is to the receiver (Acts 20:35).
God's Promise
I can't lose my salvation because I am Now PART of the BODY of Christ. When I got saved, I became part of the Body of Christ (1 Cor. 12:27). A person can be no closer to someone than to be a PART of their body (Gen. 2:23). Jesus said no one can take me out of His hand (John 10:28). Jesus said I will never perish, but those who are not part of His body will perish (Rev. 21:8).
I cannot lose my salvation because I have the Promise of God. It is God's PROMISE to me that He will never leave me nor forsake me. His promise depends on His integrity; not my integrity. The only person who can break a promise is the giver of the promise. Paul was persuaded by God's promise (Rom. 8:38-39). Man breaks his word, but God does not break His word. His promises are sure.
When I got saved, I became part of God's family (John 1:12). As a member of God's family, I may run away from God or even be out of fellowship with Him. But, my eternal security depends on my relationship with Him and not my fellowship with Him. I am not saved because I fear God and serve Him, but rather because I have entered into a relationship with Him through the Blood of the Lord Jesus Christ and His work. I was once a child of the devil (Eph. 2:2-3), but now I am a child of the King. I will always be in the family. Even if I ever get out of fellowship, I am still a family member.
Many people still feel that they can lose their salvation. This is because their understanding of God suffers. They don't know Him well enough to know He has integrity in everything He says and does. Therefore they don't trust Him. They trust themselves more. If they understood Him as Creator and themselves as the created, then He would be magnified more in their lives.