<< 10 things missions minded Christians should know >>
People want to help a missionary.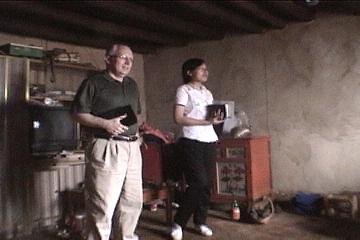 Nobody likes to be a hindrance to anybody. The one thing about people is that they tend to be helpful. Yes, there are those who will walk by you on the street and not even offer to lend a hand to you if you are in need, but that is not the norm. Those kind of people overcome their inclination to help by hardening their heart.
In this same way church folk treat missionaries. They don't want to be a hindrance to the missionary. Perhaps they think if they are a hindrance to a missionary, then they are a hindrance to the great commission. So, they want to be helpful. At times they are even too helpful. They go so overboard being helpful that they actually become a hindrance. Have you ever been around someone who wanted to help so much that they just got in your way and caused you more work? This happens for pastors, evangelist, singers and missionaries all the time.
Once I had a problem with my computer. I was living in China and didn't yet speak the language very well. This expert came to my house to fix it. He typed at the keys studying the monitor until he finally sat back in the chair relaxing. He sat there trying to have casual conversation with me in his broken English. Finally, I asked him what he was waiting for and he told me, "the computer is busy." "Why is it busy?," I asked. He replied that it was formatting. He was so helpful in fixing my computer that he was actually erasing hundreds of hours of translation work. He was trying to wipe out a virus by completely wiping out my computer. He was happy with himself for definitely fixing the problem. I was not happy. His over zealous help cost me many hundreds of dollars.
I have always appreciated evangelist/singer Mark Gray. He very politely tells everybody that he will take care of everything. He requires no help in setting up his very expensive sound equipment. He is very wise in doing so because it would be very disheartening to anyone who broke his equipment on accident. And it wouldn't be too inspiring for him as well. I am sure that over the years, he has experienced the help of many good hearted, but zealous people.
The best thing you can do to help a missionary is to offer your help and be available to them if they need it. Otherwise, it is a good idea to stay out of their way while they are preparing for a meeting. Also, it is very difficult to set up for a meeting while people are talking to them. So, leave them alone to prepare well. When they are finished, they will turn their attention to being available for answering questions. Almost every missionary will appreciate this, but you won't hear them telling you so because they are trying to be polite.
To help a missionary on the field, again, the best course of action is to be available to them. If you are in the home country and they are on the field, they may need help taking care of some critical business back home. If you have gotten to know them well, and are available to them, they will appreciate your help. Don't make decisions for them "back home" because you deduce they may not know what is going on. Nothing makes an adult feel more like a child as to have other adults making their decisions for them when they didn't ask them to do so.
To help a missionary who is on the field when you go to visit him, again, the same simple formula is the safest approach–be available to them; don't be overzealous and don't be nowhere to be found. Be available and patient. If they have a need that you can help with, they will certainly tell you so. On the other hand, if you are being a hindrance to them, they will rarely mention it to you. They don't want to discourage you and your heart to help, even if it means problems for them.
To help a missionary really comes down to being available to do whatever it is that they ask, whenever it is that they ask it, without adding to, or taking away from their request. If you do so, then you will be a blessing to them. If not, then you will be a burden, and nobody likes to be a burden. We all like to be helpful.